Home
Welcome to The Brighton Shotokan Karate Club
Welcome to the official web site of the Brighton Shotokan Karate Club. The Club was first established in 1973 and is affiliated to the Academy of Shotokan Karate (ASK), of which Sensei Dave Hazard, 7th Dan, is the Chief Instructor. Over this period many British and International Kumite and Kata competitors and champions have been forged at the Brighton Club which was for many years the official Dojo of Sensei Hazard. However, the emphasis at Brighton is not on 'sport' Karate but the traditional study of the 'three Ks' – Kihon, Kata and Kumite.
Whether you are yearning to restart Karate after a career break or have had the inspiration to do something that will enhance your self esteem, fitness and well being, this is the first step down a well proven path. Young and the not so young, all are welcome. We cater to female, as well as male students and no-one is ever allowed to feel out of their depth.
Please feel free to come along to the dojo or contact me via jess@fastnet.co.uk
Or call on 01903 775101
Well attended weekend training course (28th & 29th Sept 2013) held at Lancing, taught by Sensei Dave Hazard.
Successful grading for the following Brighton ASK students:
Shodan to Nidan – (1st to 2nd Dan) Simon Lelic, Jake Lavender, Ashley Bricknell, Elaine Quinn and Cathryn Walsh 
Sandan to Yondan – (3rd to 4th Dan) Lance Illsley
Also delighted that Sensei Jess Lavender was awarded the rank of 7th Dan by Sensei Hazard.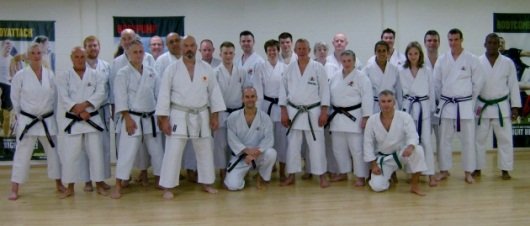 Post training after recent vist by Chief Instructor Sensei Hazard
Brighton Shotokan Karate Club 1989 – Photo courtesy of Shari